News Release – City Awarded Grant for Stamp Avenue Multi-Use Path
News Release – City Awarded Grant for Stamp Avenue Multi-Use Path
Submitted by
jmartens
on Mar 21 2017 - 7:01pm.
The Ministry of Transportation and Infrastructure announced today that the City of Port Alberni was the successful recipient of a Bike BC grant to complete a multi-use path along Stamp Avenue from Roger Street to Redford Street.
The project is valued at $200,000 and with the Bike BC Grant, the City will get 50% funding from the province. Port Alberni's contribution will come from the City's Carbon Fund, a reserve fund established to support new greenhouse gas reduction initiatives.
The project will create a new, separated, raised, off-road path for pedestrians and cyclists away from traffic on Stamp Avenue, a major corridor within the city. The project has been developed in support of the City's Active Transportation Plan, which seeks to make walking and cycling safe and attractive transportation choices for people of all ages and abilities, for both commuting and recreational purposes.
"Investments such as this, supported by grant funding, will reap long-lasting benefits in terms of health, safety and the sustainability of our community," said Mayor Mike Ruttan. "We greatly appreciate the support of the Province in advancing active transportation, an important component of our overall transportation and mobility needs."
View the announcement from the Ministry of Transportation and Infrastructure here.
- 30 -
Map: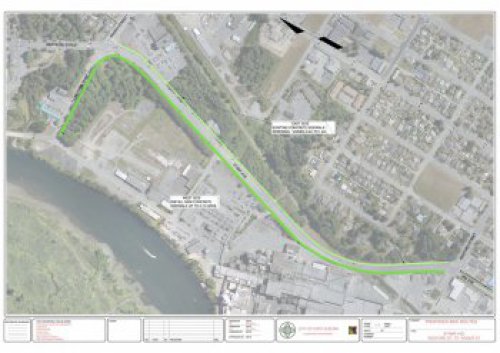 Contacts:
Scott Smith
Director of Development Services
City of Port Alberni
scott_smith@portalberni.ca
(250) 720-2808