Meet Your Council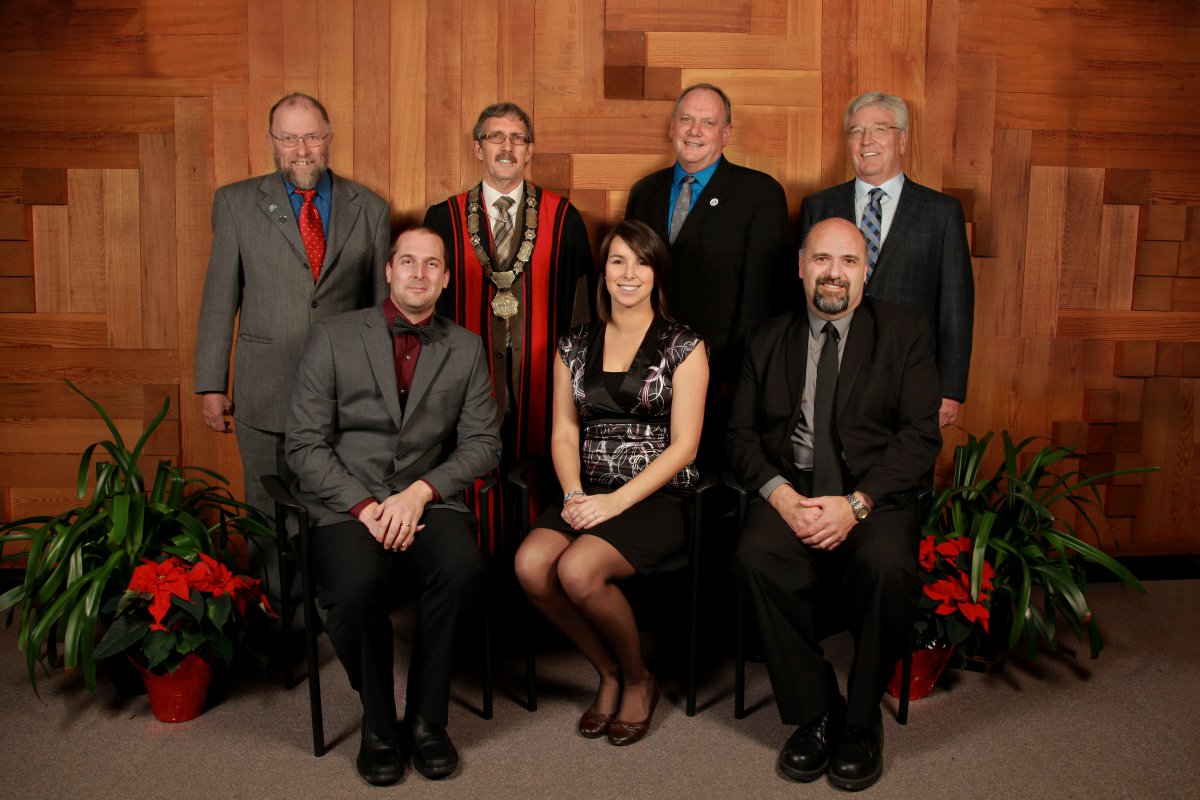 City Council
Standing left to right: Jack McLeman, Mayor Mike Ruttan, Dan Washington, Ron Paulson
Seated left to right: Chris Alemany, Sharie Minions, Denis Sauve
Council Appointment List 2016/2017
MAYOR

MIKE RUTTAN

Contact Information:

Phone:

(Office) 250-720-2827

(Assistant) 250-720-2822

Email:

Mayor Mike Ruttan was born and raised in the Alberni Valley. He attended the University of British Columbia Simon Fraser University, and in 1983 completed a Masters of Education Administration at the University of Victoria.

Mike and his wife Bonnie started teaching in Whitehorse, Yukon, and after 4 years returned to Vancouver Island in 1979 where Mike was the teacher/principal of Eric Godson School in Bamfield. After 3 years in Bamfield they returned to Port Alberni where Mike served as vice-principal of EJ Dunn Junior Secondary. In 2005 Mike joined Alberni District Secondary School (ADSS) as vice-principal and later principal, a position he held for 6 years before retiring.

Mike is most proud of his work at ADSS creating a culture that was consultative, respectful, and inclusive. This approach was particularly valuable during the construction of the new ADSS, a multi-year School District 70 initiative. His role involved chairing planning and design committees, communicating regularly with Ministry of Education officials, and working with staff to ensure a smooth transition to the LEED Gold building.

Mike is a strong advocate for volunteerism and served for 10 years as chair of the Alberni Valley Drug and Alcohol Prevention Service (ADAPS).

Mike and Bonnie reside in Port Alberni and have four grown children.

COUNCILLORS

Contact Information:

Phone:

(Home) 250-723-5851

(Cell) 250-730-1580


Jack McLeman was first elected to City Council in 2005 and enjoys the challenges and many rewards of public service.

He has been a resident of Port Alberni since 1970 where he raised his two children, Colin and Mike. Jack spent much of his working career at the Somass sawmill where he was employed for over 35 years.

During his career he served as elected chairman of the Somass Mill and table officer of the IWA-C and successor unions for many years. He has also served as president of the Port Alberni and District Labour Council.

Jack is now enjoying retirement with his wife Bev Denning with much of their leisure time spent camping, gardening and enjoying their grandchildren. An avid black powder shooter, Jack has also been president of the local Black Powder Club for several years.

SHARIE MINIONS

Contact Information:

Phone:

(Home) 778-421-0239


Sharie Minions was born and raised in the Alberni Valley. After graduating from ADSS, she moved to Victoria to attend the University of Victoria and experience life outside the Valley. Sharie and her husband returned to Port Alberni in 2010 to be close to family, and take advantage of the affordable housing prices. They have two young children and are loving the lifestyle Port Alberni can offer a young family like theirs.

Before returning home to Port Alberni, Sharie started a business as a mortgage broker and has been building that business over the past few years. She has a small team of mortgage brokers working for her in other areas of Vancouver Island, which allows her to focus her personal business locally. Two years ago, after realizing the challenges of being a young person in business in a more mature-dominated business community, she helped to create the Young Professionals of Alberni Valley. The group was created as a way to bridge the gap and give young business people a comfortable place to network and have their voices heard in the community.

She's won several awards for her mortgage business and the training system she created to train her team and in 2012 she was chosen as one of Vancouver Island's Top 20 Under 40 business people. She was Port Alberni's Community Representative on the Board of Governor's for North Island College, but had to resign when she was elected to Council.


Elected at just 26 years old with two young children, Sharie is passionate about encouraging more young families, young women especially, to get engaged in local politics and have their voices heard.

DENIS SAUVE

Contact Information:

Phone:

(Cell) 250-918-8827


Councilor Denis Sauvé was elected to City Council in November of 2014. He is passionate about helping others, giving back and contributing to his community.

Denis recently retired from the Royal Canadian Mounted Police after a 27 year career that included posts in Ottawa, Chemainus, Victoria, Tofino and Port Alberni. During his career Denis was called upon to participate in a number of special operations with the United Nations to assist in the stabilization and social development efforts in Haiti. The skills and experience Denis gained during three tours in Haiti, plus his fluency in French, later led to a year-long project with a special task force assembled in the wake of the 9/11 terrorist attacks to assess potential threats to Canada. Denis' career with the RCMP also included being selected as the non-commissioned officer in charge of the Canadian Anti-Fraud Centre's Analytical Team based in Ottawa.

Born in Gatineau, Quebec, Denis has a degree in law and administration. He is married to his wife Laureen who together have three children, Céline, Chantal and son René. In his spare time Denis volunteers at several seniors care facilities, participates on the board of Better at Home Living and is also involved with Community Policing as a Citizen on Patrol.

Through his work on Council Denis looks forward to advocating for the needs of seniors, creating more employment opportunities for youth in Port Alberni and supporting local small businesses and tourism.

CHRIS ALEMANY

Contact Information:

Phone:

(Cell) 250-731-7930

Chris Alemany was born and raised in Port Alberni and graduated from ADSS in 1996. After graduation he moved away to go to UVIC and Malaspina, travel all over the world, and work, including as a deckhand on his dad's salmon and tuna troller off Haida Gwai and off the South Coast of BC, Washington and Oregon.

Chris completed a Diploma in Information Technology at Malaspina University College and has been a Computer Technician at Malaspina/VIU for the past 14 years. He currently works in the Media Studies department of VIU helping students and faculty with computer, web, video and audio technology. Chris is also a member of the Executive of the Vancouver Island Faculty Association.

Chris lives in Port Alberni with his wife Theresa and 2 children. He runs a popular weather website and maintains a computer support business from home. In 2007 Chris was asked to be on the City's Climate Change Committee and after its successful completion he and other concerned citizens in the Valley started a Transition Town group. It has been incorporated as the Alberni Valley Transition Town Society since 2011.

Chris's continued interests lie in serving the public, helping his community achieve its potential in a sustainable and equitable way and raising his family in the City he loves. Chris maintains a webpage about his work on City council at www.chrisalemany.ca.

RON PAULSON

Contact Information:

Phone:

(Home) 250-724-0702

(Cell) 250-731-9551

Ron has been a resident of the Alberni Valley since 1974 when he came to the Valley to play hockey for the Port Alberni Blues. He has been married to his wife, Beth, for 37 years and they have a daughter, Brynn. His family has always been very supportive of his many community projects over the past two decades.

Ron gained an extensive background in retail business in the early years and most recently was employed by the City of Port Alberni as a Recreation Programmer at the Alberni Valley Multiplex. Ron has had almost daily interaction with many events and event organizers in the last ten years and has had constant exposure to the sport tourism opportunities that now play a big economic role in the Alberni Valley.

He has had the opportunity to be involved in the development of the Alberni Valley Multiplex and has worked extensively with the Alberni Valley's strong and talented volunteer base.

Ron has shown his integrity, leadership and community action during his time in the Alberni Valley and will continue to represent the community as a Councillor for the City of Port Alberni. He believes this is just one way he can give back to the community that has been so good to him throughout his time in the Alberni Valley.

DAN WASHINGTON

Contact Information:

Phone:

(Home) 250-724-5681

Councillor Dan Washington has been a resident of the City of Port Alberni since 1976 and has extensive business, volunteer and political experience. Dan has spent his entire career in the forest and marine manufacturing and repair industry.

Dan is very engaged in non-political community activities. He has been an active member in Kiwanis for over 31 years, having the honor to serve as President on four occasions. He is also proud of his role in coordinating the 'Our Town' youth program since 1992 in collaboration with the Port Alberni Parks, Recreation and Heritage Department. His volunteer contributions have also included the Port Alberni Salmon Festival Society with whom he has served as President for 18 of their 43 year history. Dan was also named the Alberni Valley Chamber of Commerce "Citizen of the Year" in 2013.

Dan previously served on City Council from 1999-2001 and 2012-2014. With the valuable experience he gained during these terms and his continued interest in the local community, Dan is excited to be returned to Council to serve the community.

Dan has two grown children, daughter Kristen and son Cody who both still reside in the Valley.