News Release - Scott Kenny Trail to be Temporarily Closed
News Release - Scott Kenny Trail to be Temporarily Closed
Submitted by
jmartens
on May 26 2017 - 10:48am.
With the City's recent sale of approximately 3.5 acres at the south end of Cherry Creek Road for a new commercial development, the owner, LPV Land Development, has advised the City of their intent to begin initial work on Monday, May 29, 2017. This work will involve the falling and clearing of trees to make way for a mix of new light industrial units and a mini-storage facility.
With a portion of the Roger Creek trail network traversing the property, LPV Land Development will be relocating the trail, at their cost, within the property for continued public access and use.
To accommodate this work and ensure the safety of residents and visitors, a section of the Scott Kenny Trail will be closed during construction. This closure will occur at the access points located at the end of Cherry Creek Road, adjacent to the SPCA and at the southern section of the network behind the BC Hydro building. Closure signage will be posted at each location.
The public is asked to respect the trail closure as the construction activities and the associated truck traffic pose a risk to safety.
Removal of the trees and reestablishment of the trail is anticipated to take 4 weeks. The new trail will be constructed prior to the owner commencing work on the new commercial buildings.
The agreement between the City and LPV Land Development also provides for the protection of trees along the southern portion of the trail, preserving the scenic qualities of this valued recreational area.
Image: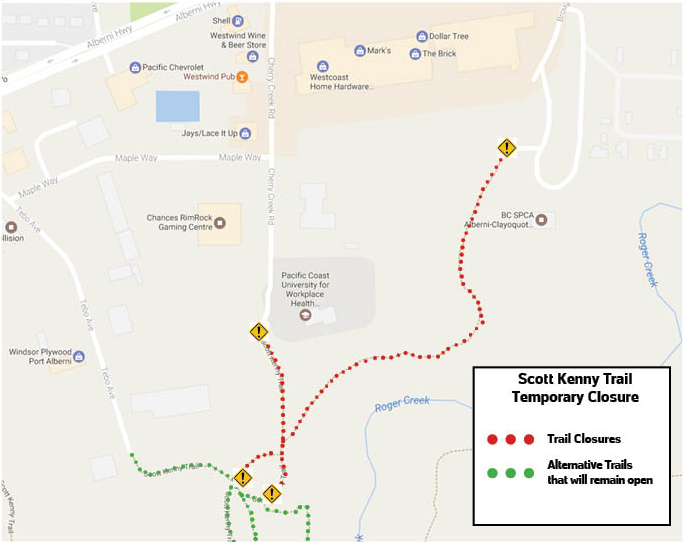 - 30 -
Contacts:
Scott Smith
Director of Development Services
City of Port Alberni
scott_smith@portalberni.ca
(250) 720-2808
Rob Gaudreault
Parks Operations Supervisor
City of Port Alberni
rob_gaudreault@portalberni.ca
(250) 720-2516