Westporte Place Water Main Upgrade Project - Compton Road and Russell Street
Westporte Place Water Main Upgrade Project - Compton Road and Russell Street
Submitted by
aliciap
on Jul 10 2018 - 2:23pm.
Westporte Place Water Main Upgrade Project - Compton Road and Russell Street
To address aging infrastructure, accommodate future growth and ensure the continued delivery of safe, high-quality drinking water to your neighbourhood, the City of Port Alberni is upgrading a small portion of the water distribution system in your area.
Upcoming Construction
Starting the week of July 16, 2018, City of Port Alberni crews and subcontractors will mobilize at Westporte Place South Park to commence site preparations for water main installation.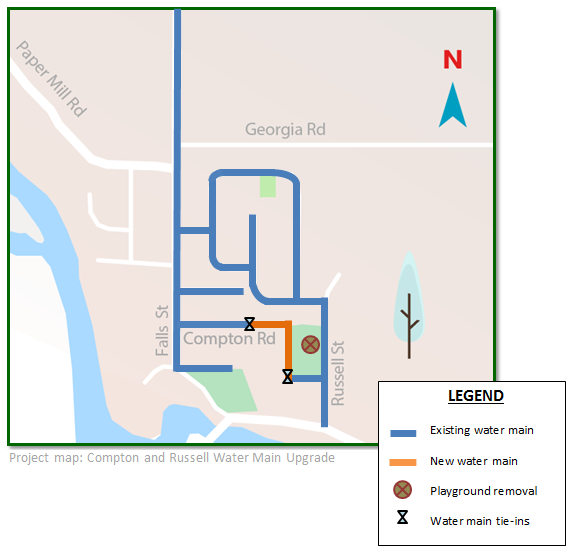 Why Now?
This City work is being carried out in advance of the Rainbow Gardens assisted living project, slated for construction in late-summer 2018. For details, please contact John Jessup & Associates at 250-323-2727.
Construction Activities
Activities associated with this water main project will include:
Trench excavation
Pipe installation
Backfilling
Ground compaction
Area restoration
Watermain tie-ins
Testing/commissioning
This work is expected to take approximately six weeks to complete.
Playground Removal
As a result of the future development, the existing playground in Westporte Place South Park will be removed. This work will be done in coordination with the water main upgrade.
Water Testing
Once the new water main has been installed it will go through a testing period. During testing, crews may temporarily move to another project to ensure staff time is being used wisely. Please note, crews will return in short-order following completion of the testing to conduct restoration and commissioning activities.
Truck Traffic
There will be large trucks transporting materials and equipment to and from the work site. The City will instruct its crew and subcontractors to use the shortest route possible to reduce impacts on area residents.
Access and Safety
Access to area homes will be maintained at all times; however, for those residences that have driveways backing on to Compton Road, there will be temporary access restrictions.
To ensure the safety of area residents, the construction site will be fenced. Please use caution when in the area.
Work Hours and Noise
Work hours will generally occur Monday to Friday between 7 a.m. and 5 p.m. Crews will attempt, wherever practical, to reduce noise impacts.
Questions?
If you have questions about this project, please contact the Public Works Yard at 250-720-2840.
We thank you in advance for your patience and understanding.