Safe Needle Disposal
Submitted by
jmartens
on May 1 2017 - 1:21pm.
Communities across Vancouver Island are having conversations about how to address inappropriately discarded needles. The challenge is a shared one, and the City would like to provide you with some resources to help you respond to these concerns.
Everyone who uses a needle to inject should dispose of their needles safely. However, that's not always the case, and sometimes they are discarded in back alleys, ditches, parks, and other public spaces.
With safe disposal, no one will get hurt accidentally. Sharps containers are now available at many City facilities. Other harm reduction supplies are available at the Port Alberni Health Unit (4227 6th Ave) and Mental Health & Addictions Services (4780 Roger St).
For removal of needles on public property in Port Alberni – contact us with the street address and location of the needle – and our staff will come and pick it up.
During regular business hours (7:00am - 4:30pm):
City of Port Alberni Public Works Yard: 250-720-2840
After hours, non-emergency:
City of Port Alberni Fire Department: 250-724-1351
Port Alberni RCMP: 250-723-2424
If you chose to dispose of the needle yourself, please be cautious and follow these steps: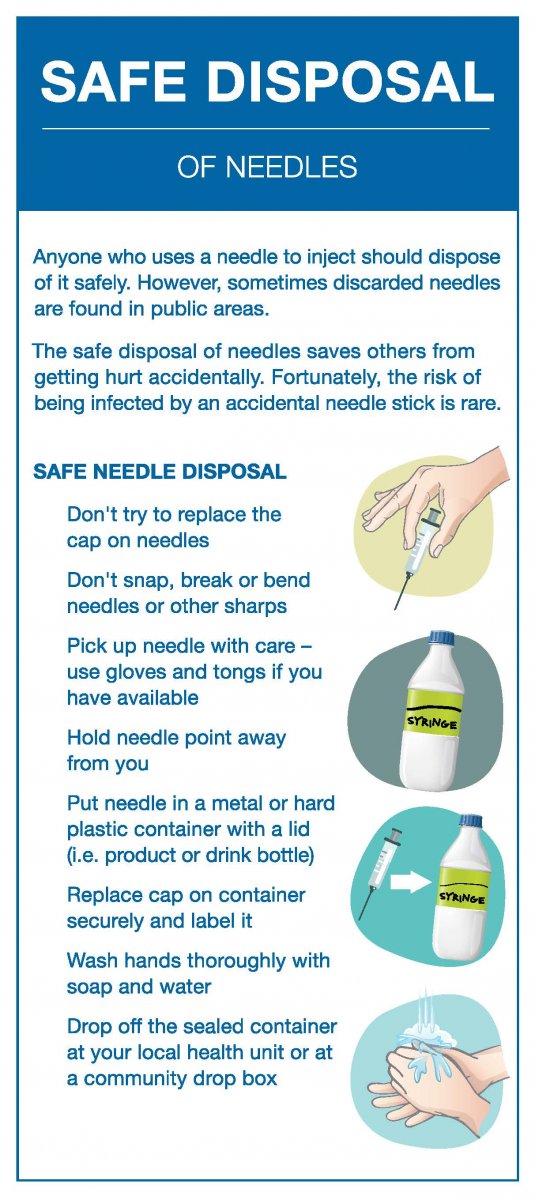 To learn more, click here. Additional information can also be found through Island Health or by calling the Port Alberni Health Unit at 250-731-1322 or Mental Health & Addictions Services at 250-731-1311.