Argyle Water Supply Main Replacement Project
Argyle Water Supply Main Replacement Project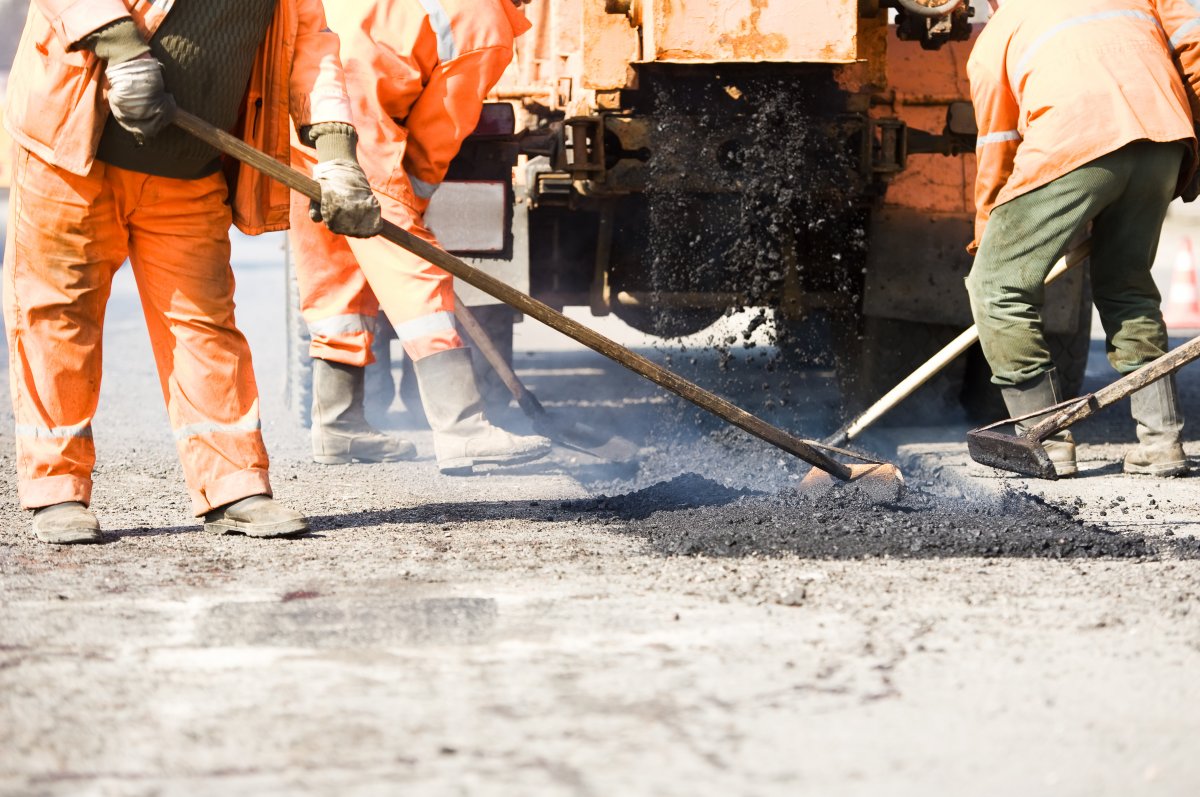 Road paving activities following watermain construction
To continue providing clean, safe drinking water and to meet increasing water demands, the City of Port Alberni is constructing the Argyle Water Supply Main Replacement Project in the upper Argyle area. This essential project involves replacing an existing watermain, installing new service connections and connecting the new main to the existing water distribution system.
Project Overview
Starting January 2019 a City contractor will break ground on the Argyle Water Supply Main Replacement Project. This project involves the installation of new water mains along the south side of Argyle Street from 17th Avenue to 21st Avenue. System tie-ins will be carried out at 17th Avenue, 18th Avenue, McNaughton Avenue and Sweet Avenue. New municipal service connections will also be installed for those fronting the Argyle Street construction zone.
When complete, the new watermain will:
• ensure the continued supply of drinking water
• provide system redundancy
• increase operational capacity
Construction Activities
The project contractor, IWC Excavation Ltd., will mobilize on Argyle Street at 17th Avenue to begin water main installation. Construction will be carried out mainly in the boulevard on the south side of Argyle Street and advance east up Argyle Street with installation branching up neighbouring side streets (see map for details.)
Major construction activities related to this project include:
• saw cutting the road surface
• removing City-owned trees along sections of alignment
• excavating a trench
• installing the new water main
• constructing and connecting new residential water services at property line
• performing final activities including cleaning and testing
• connecting the new water main to the existing water distribution system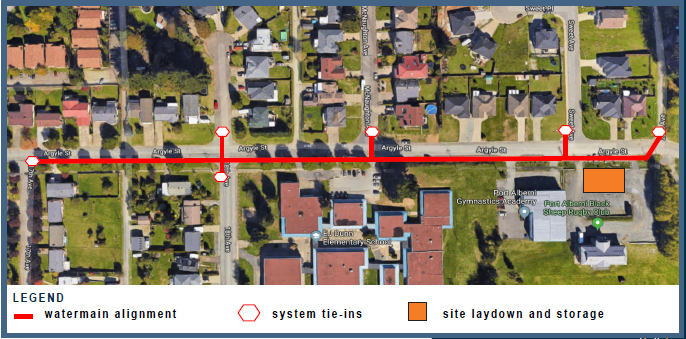 Following completion of water main installation, impacted areas will be restored to similar or better condition. This includes:
• new curbs
• seeding of impacted green spaces
• planting new trees to replace those removed
• paving impacted roadways
Hours of Work
Work will generally occur Monday to Friday from 7 a.m. to 6 p.m. However, there may be times when crews will need to work longer hours or on weekends to maintain the construction schedule.
Construction Schedule*
Watermain installation Jan - Mar 2019
System tie-ins Feb - Apr 2019
Restoration May 2019
Demobilization June 2019
*Please note this construction schedule is subject to change
PROJECT UPDATE - JAN 16, 2019
Currently, crews are preparing to cross 18th Avenue which will result in local detours and no through traffic to Argyle Street for approximately three days. As work progresses past 18th Avenue, the intersection will reopen to through traffic. Construction activities will then continue east up Argyle Street temporarily restricting access to the designated student pick-up/drop-off area on Argyle Street. This closure will be in place for approximately one week.
For more on this project and the City's mitigation measures, check out our fact sheet.