Argyle Water Supply Main Replacement Project
Argyle Water Supply Main Replacement Project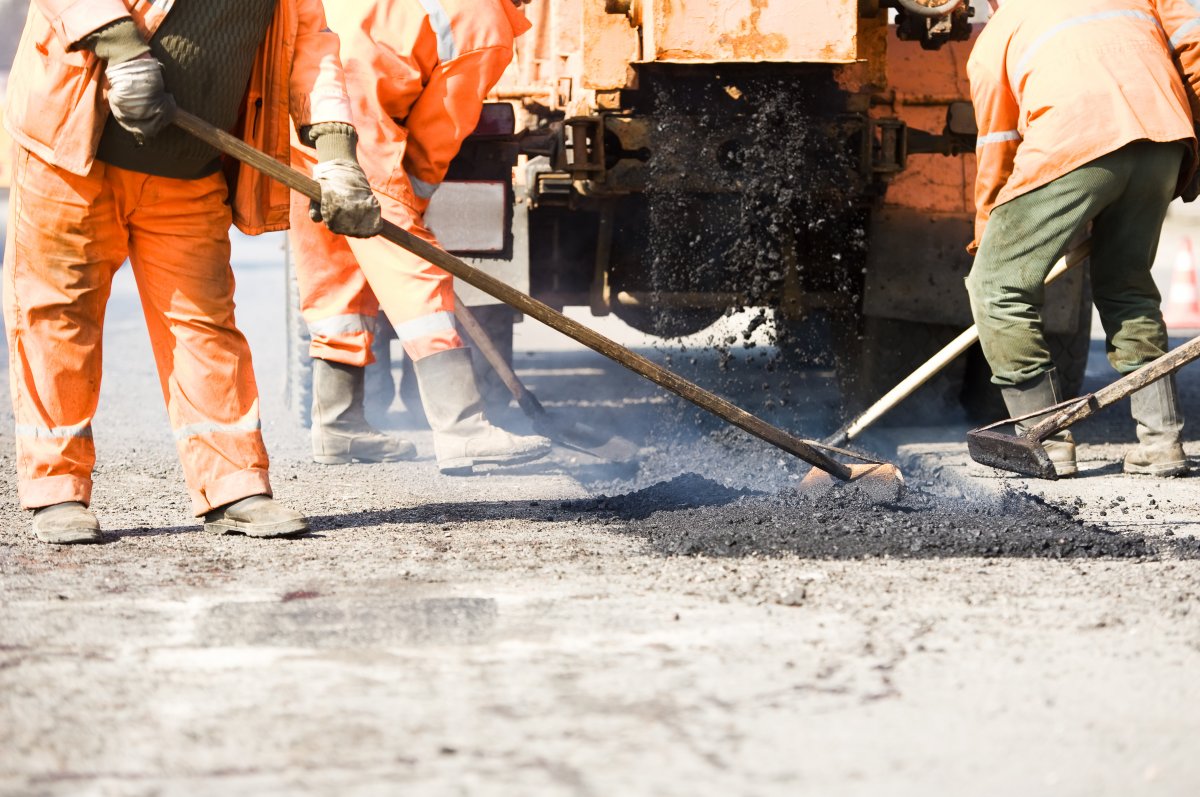 Road paving activities following watermain construction
To continue providing clean, safe drinking water and to meet increasing water demands, the City of Port Alberni is constructing the Argyle Water Supply Main Replacement Project in the upper Argyle area. This essential project involves replacing an existing watermain, installing new service connections and connecting the new main to the existing water distribution system.
Project Overview
In January 2019 a City contractor broke ground on the Argyle Water Supply Main Replacement Project. The project involved the installation of a new water main along the south side of Argyle Street from 17th Avenue to 21st Avenue. Installation of the new main is now complete and crews are moving on to construct system tie-ins and service connections at various points along the alignment.
When complete, the new watermain will:
• ensure the continued supply of drinking water
• provide system redundancy
• increase operational capacity
Construction Update
Between the weeks of March 18th and 25th, the contractor will tie the new supply main into the existing distribution system at six points along the alignment (see map below for locations.)
Activities associated with system tie-ins include:
excavating tie-in locations
isolating existing distribution pipe
connecting the new main to the existing distribution system
pressure testing the new connection point
backfilling the excavated area
restoring the impacted area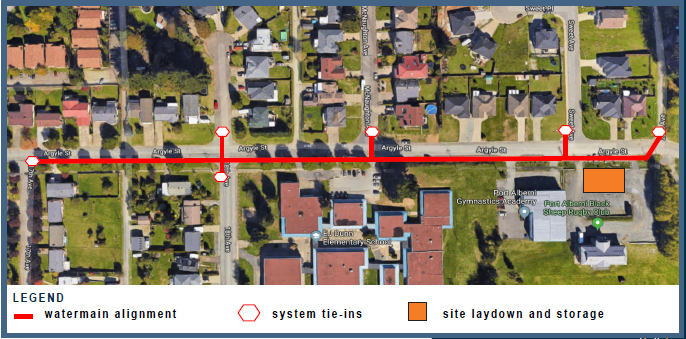 Tie-in Schedule
Crews will begin work at 17th Avenue and Argyle Street. This tie-in is expected to take one to two days to complete, after which crews will transfer existing services to the new main and move on to the 18th Avenue tie-ins. Once the tie-ins at 18th Avenue are complete, crews will mobilize to 21st Avenue and Argyle Street. This tie-in is more involved, as this part of the system services major institutions like the hospital within the city. As a result, this tie-in will be carried out during the nighttime when water demands are low. Once complete, crews will move on to complete the final tie-ins at McNaughton Avenue and Sweet Avenue.
Night Work for 21st Avenue Tie-in
At this time, crews anticipate completing the 21st Avenue tie-in during the evening of March 25th. The operation of heavy machinery will be required and the site will be lit for safety purposes. Crews will attempt to reduce noise impacts on area residents wherever practical.
Utility Service Interruptions
There may be utility interruptions as a result of the tie-ins. If there is a planned interruption, the City will provide advanced notification to those affected.
General Work Hours
General hours are Monday through Friday from 7 a.m. to 5 p.m. However, there may be times when crews will need to work extended hours or on a weekend to complete a specific task.
Restoration
When tie-in work is complete and the new water supply main has been tested, crews will shift their focus to restoration. Restoration will include, road paving, curb forming in certain areas and sod laying. Once the area has been restored, City crews will plant trees along the affected boulevard to replace those removed at the start of the project.
Please note that some restoration activities are weather dependent and may have to be completed when seasonal temperatures are higher.
Construction Schedule*
Watermain installation Jan - Mar 2019
System tie-ins Mar - Apr 2019
Restoration Apr - May 2019
Demobilization June 2019
*Please note this construction schedule is subject to change
For more on this project and the City's mitigation measures, check out our fact sheet.